About Rick Wood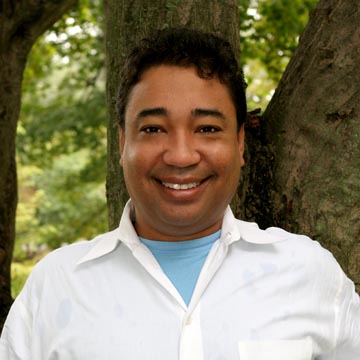 Who is Psychic Medium Ricky Wood?
Ricky Wood, a Philadelphia Pennsylvania native and current West Chester, PA based Psychic Medium, Life Coach, has been professionally offering his services for over twenty years. Sought after on a national basis from a diverse clientele, Ricky has shared his unique abilities with people from all types of professions, including but not limited to: doctors, lawyers, judges, engineers, photographers, actors, and all types of businessmen and women.
Offering numerous services to clients based on their particular needs and desires, Psychic Medium Ricky Wood's repertoire includes: mediumship, psychic readings, life coaching, individual and couples counseling, attached spirit removal, and house clearings. Applying his psychic intuition, diverse cultural influences, and modern day living realities in all aspects of his work, Ricky is able to offer a unique approach to self-empowerment.
While Ricky's exposure to intuition as a way of living has encompassed his life since he was just four-years-old, he has been professionally sharing his abilities as a Psychic Medium and Life Coach for over sixteen years.
Ricky is a direct descendant of a culture that embraces the importance of an ancient universal tradition known as 'shamanism.' It is said that a shaman is a person who extends personal healing and empowerment through the services of a charismatic individual. The tradition of shamanism is to promote order, health, prosperity and happiness while instilling a common vision for individual motivation. The request of a shaman's presence is a common tradition at soul rituals of birth, marriage, and death.
Ricky has pursued careers in the nutritional industry, owning two of his own stores, as well as holding positions in the health care industry. This helped him to gain a vast amount of knowledge related to physical well being which has helped him maintain a healthy lifestyle in lieu of living with juvenile diabetes. About sixteen years ago, Rick realized that his true calling was to help others by using his intuitive abilities. The demand for his talents as an Intuitive Life Coach and Psychic Medium has become large enough that he devotes his energies to this work full-time. He truly loves helping others find peace, success, and personal happiness.
Rick Wood does not use a crystal ball or call himself a blessed moon dog and he doesn't take himself too seriously. Basically, the short story is, Rick is a regular guy. He likes reading comics, watching the history channel and cooking while listening to the best band of all time – The Beach Boys. It just so happens that he can communicate with spirits.
After interviewing a dozen of Ricky's clients and himself, he and Amy Morris authored "They're Not Gone," a collection of true stories from people reunited with their loved ones who've passed away. After each story, there are questions and answers about how his abilities work for him, what he believes about physical death and the continuation of our spirits based on his experience and some more tidbits about him in general. If you are not familiar with mediumship or have questions about how Rick works as a medium, it is a great book to learn more about Ricky and hear some of his clients' experiences.
Schedule a session with Rick Wood